Wedding Fails – those minor and major mishaps at a wedding ceremony or reception – are a reminder that the unexpected can happen at any time or that things can get out of hand quickly.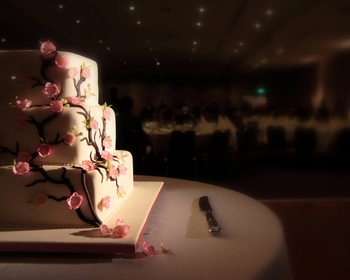 Even though they're named "Wedding Fails" they can ruin the celebratory atmosphere at a wedding and they can adversely affect the scheduling of the reception.
When you prepare your agenda you schedule events to take place at certain times.
And you want things to go according to plan because the room is rented for only so many hours.
You don't anticipate something adverse happening that can throw off the timing of the reception and change the mood and tempo.
If events run overtime or if something happens that disrupts your agenda and timeline, you'll be expected to make adjustments which could mean eliminating or shortening events that might have special meaning to the newlyweds.
Sometimes we laugh at other people's mishaps. Sometimes we cringe at what happens.
For example, someone tries to be a hero and shows off his abilities as a break dancer and ends up flat on his back or falling off an elevated dance floor.
Other times we feel sorry for them – especially when something happens to the bride.
After all, it's not funny to see a bride's beautiful dress or hair ruined after cake smashing at the cake cutting event – especially when she went to so much time and expense to look beautiful for her groom on her big day.
When I show emcees how to create a fun and memorable reception, I'm not referring to having a laugh at other people's expense or having something happen that ruins an otherwise perfect day for the newlyweds.
Glitches and mistakes can happen, of course.
And as Wedding MC you can't anticipate every one of the mishaps that could take place at a reception.
But you can take reasonable steps to minimize unfortunate things from happening by having a contingency plan in place. I cover a number of things that could happen in How To Be A FUN Wedding MC.
There's probably an almost unlimited number of unforeseen things that could happen but some of the unfortunate mishaps include:
1. Wedding cake tables that collapse or topple over when the cake is being cut. (Be prepared for this happening since it's not always anticipated.)
2. Obvious dangers (like pools or ponds) depending on the location where the ceremony or reception is taking place.
3. Cake smashing that can turn into a competition between the bride and groom. (The best way to avoid cake smashing is having the bride and groom serve each other cake with forks.)
4. Lifting the bride and groom up on a chair when there's a low ceiling in the reception room. (This is where viewing the reception room ahead of time can tell you if this will be a problem.)
5. Bringing dogs that are nervous around strangers or other dogs at the wedding. (Some couples want their dogs to be part of the wedding which is perfectly fine.)
6. Guests tripping over rugs or falling on a slippery walkway or dance floor. (This is particularly worrisome especially if there has been rain or water on the walkway or the dance floor has been specially prepared.)
7. The wedding party falling off a boat dock. (Slippery conditions or too many people on a dock or platform pose a real and dangerous hazard even though it might seem like a good or fun idea at the time.)
Your role as emcee is to think ahead and try and anticipate the most obvious things that could happen.
Think about what could happen if the weather changes.
Or if a key player – like the DJ – doesn't show up.
Or there's a medical emergency. (Particularly distressing for everyone.)
This is where being prepared can come in handy and pay big dividends.
You'll be able to respond quickly and appropriately.
Hopefully you'll never have to worry about something going wrong.
But you should make plans with the bride for contingencies that could affect or even ruin her perfect day.
As the Master of Ceremonies, always be on the lookout for obvious hazards that can affect the guests and the celebration of the marriage and make necessary changes to minimize risks to the newlyweds and their guests.
That means you'll not only have to check out the reception venue but also consider things like the weather, or guest comfort, or how the agenda will be affected if the bride or her planner hasn't thought of contingencies.
Here's a small collection of Wedding Fails that could help you plan for the reception (and by all means be properly prepared so the "event" that happened to one MC in the video doesn't happen to you – it can be embarrassing in front of the guests!)
[s3vpp id=bb8737ee94869e83e07319fd71dd5a05]