Wedding MC Jokes Tips For The Master Of Ceremonies
As Wedding MC, you'll find that many of your duties at the reception will revolve around making announcements and coordinating events including entertainment, games, dancing, and other traditions like cake cutting, the bouquet toss, and the garter toss.
If you're a novice and learning how to be a Wedding Master of Ceremonies you might think about using humor. 
Wedding MC Jokes can always be part of your MC Duties, although they're not essential for the guests to have fun at the reception.
When you MC at a wedding, you're not only expected to run the reception, you're also expected to entertain the guests. 
That's where humor can come in handy.
After all, what better way to entertain the guests than with occasional humorous wedding jokes that are clean and tasteful and don't offend anyone.
Tip #1 – Select Wedding Jokes What Will Be Funny With Live Audiences
Beware of falling into the trap of reading a funny wedding joke and thinking that it will work when you tell it to a live audience.
Some jokes are only effective when you read them, but don't work when you tell them.
Tip #2 – Don't Try To Be A Stand Up Comedian
One of the best parts about being a Wedding MC is that no one expects you to be a stand up comedian.
All they expect is to have a fun time.
Of course, the guests will enjoy themselves more if you can add a touch of humor throughout the reception.

All you have to do during the reception is add at various places some humorous and clean wedding jokes to keep things lively and fun.
Tip #3 – Know Your Wedding Guests
What will your guests be like?
Will they be young, old, high society, hard working folks, or somewhere in between?
Guests can be all ages and come from all walks of life, ethnicities, and social standing.
So keep in mind that the funny joke you told your buddies at work around the water cooler might not be appropriate (or understood) by the guests at the reception.
Think about who your guests are and select jokes that you think will be appropriate for them.
Tip #4 – Select FUNNY Wedding Jokes And Mark Them Down On Your Agenda
While everyone has a different idea of what a funny wedding joke is, if you choose tried and tested material you have a better chance of getting a laugh.
Once you've selected your material, note it down on the agenda so you know when to introduce it during the reception.
For example, you might use jokes to introduce guests. Or you might use humor when making announcements. Or you might think of humorous alternatives (rather than clinking on glasses) to encourage the bride and groom to kiss.
Tip #5 – Make Sure You Don't Embarrass Anyone
When you introduce speakers for speeches or toasts or talk about the bride and groom you have to be careful that you don't embarrass anyone.
A wedding reception is a time for celebrating a marriage.
It's also an event that will be remembered for years to come by the bride and groom.
That's why you don't want to do anything that detracts from those happy and pleasant memories.
If in doubt, the very least you can do is ask whether the humor will be offensive.

The best thing about Wedding MC Jokes is that you don't have to be a professional comedian to make people laugh.
When you MC a reception, you're in a room with people who are there to celebrate a marriage. There's a party atmosphere which puts people in the mood for fun and laughter.
So your audience is "primed" for humor.
And your material is easy to tell – it's generally about marriage or the groom or (very tastefully) about the bride or they're about husbands and wives.
Keep in mind that jokes about the bride can be a delicate subject and should be used with caution. After all, it's her special day and one of the most important days of her life, and you don't want to spoil that special time for her with a thoughtless remark – even if it would get a laugh.
Tip #6 – Commit Your Material To Memory
Your jokes will have a better chance of succeeding if you choose ones that are funny and you memorize them – or the main parts so you can tell them effortlessly.
Pay particular attention to the punch line because that's what makes the joke effective.
There's no reason why you can't rehearse before the reception – preferably in front of a live audience of friends or family – in preparation for the big day.
As Master of Ceremonies, this will give you a huge advantage in feeling confident in your timing and delivery.

Tip #7 – Give Your Material A Trial Run
Every joke has a special rhythm to it.
Sometimes you will emphasize a particular part of it to "set the stage" for the punch line.
Other times you make it sound so conversational that your joke almost sneaks up on the listener – and you get an even bigger laugh because it's so unexpected.
The key to telling a wedding anecdote, for example, that's funny is to practice so it sounds natural.
Tip #8 – Make Your Wedding Joke Sound Believable
Help your audience identify with your joke by making it believable.
To make it sound believable use real names – names of towns or cities or countries.
And use the names of the bride and groom if you've selected a bride or a groom joke.
You don't have to use a real situation. It can be a made up situation that sounds real from the way you tell it – by using real names.

Tip #9 – Choose Enough Material For The Whole Reception
"Dead air" and long breaks between events aren't a good thing when you're the Wedding MC.
Your goal is to keep the guests entertained otherwise they'll get bored and restless.

As MC, you want the reception events to flow along smoothly and you want to keep the tempo upbeat and fun.
Make sure you have a tight agenda that flows well and keeps events on time. Have enough material to fill in any gaps between events.
The Reception Is More Than Wedding Jokes
If you decide to use humor, plan on using it throughout the reception.
But remember, as much as the guests enjoy funny jokes, humor only goes so far.
You're not expected to entertain and put on a show for an hour like a professional comedian.
It's much more important that you plan the entertainment, games, and events because those make up the majority of a fun reception.
And a fun reception will leave a lasting memory.
In fact, a reception can be very successful without any jokes at all because they play such a small role at the reception compared to organizing a fun time.
That's why if you have to choose between jokes and creating a fun reception, creating a fun reception should be your priority.
Create A FUN And Memorable Reception For The Bride And Groom
Wedding humor – if you use it – is an addition to your skills as an MC, not the foundation of the reception. After all, the guests are never going to complain that there were no jokes at the reception. 
In fact, your guests can have a lot of fun at the reception even if you don't use humor at all.
It's the experience at the reception that counts in the long run and that leaves a lasting memory.
That experience encompasses a multitude of things: the grand entrance of the bride and groom, the meal, the entertainment, the music, the games, the dancing, the traditional events, and the atmosphere.
It's your job as MC to oversee an agenda that creates a celebratory atmosphere.
That's where the secrets in How To Be A FUN Wedding MC can help the novice Wedding MC create a FUN and memorable time at the reception even if you've never been the Master of Ceremonies at a wedding before.
Click The Image Below For How To Be A FUN Wedding MC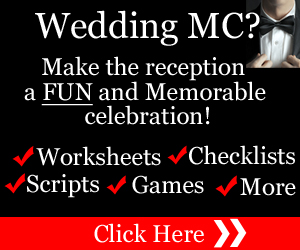 The following is a video by Wedding MC Maureen. It's a speech and toast which includes jokes and was given before the main meal was served.
If the newlyweds request you give a speech, then Maureen's speech is a good format to follow.
Maureen did a very fine job with her speech. A couple of pointers to help you if you're giving a wedding speech: If you're nervous, there's no need to tell the guests. Your nerves will settle down quickly and you'll feel more comfortable after a couple of minutes. Take a deep breath. Making a joke at the beginning like Maureen did is a good way to settle your nerves. While the guests are laughing it gives you a chance to calm down. 
At the beginning, your voice might get a little wavery from nerves. But I can assure you that most, if not all, of the guests are thankful that they're not the ones giving a speech because talking in public terrifies most people. Also keep in mind that the guests are at the reception to have fun. They understand you could be nervous and it's nothing to be ashamed of.
The best way to overcome nerves is to know your material well so you can talk confidently.
There are three key ways to develop confidence: Practicing your material, having experience, and being prepared.
If you're a novice Wedding Master of Ceremonies you probably won't have the experience. But you can overcome that lack of experience by being prepared and practicing your MC scripts.
Try and avoid reading your speech. If you're nervous it's fine to read your speech at the beginning until you feel more confident talking in front of the guests. Glancing at your notes from time to time is a good way to give your speech and it makes you look confident even if you don't feel that way.
Make sure the equipment – including the microphone – is working before you get up to talk. There seemed to be some question about whether everyone could hear Maureen and it threw off the rhythm of her speech at the beginning. 
Maureen used a lectern at this reception. Sometimes there will be a lectern. Other times there won't or you won't want to use one. If you're nervous, having a lectern will seem like a gift – at least people won't see your hands shaking. But if there is no lectern, then make sure you have some sort of folder or binder that you have your speech or notes in so your nervousness isn't as noticeable.
There are some terrific Wedding MC jokes here: The joke about keeping speeches short and having a time limit, the seating arrangements, and the final toast at the end of the speech are funny jokes.
This is what made this speech so good – the jokes were funny. And that's the key if you're going to use jokes – make sure they're funny. There is nothing worse than making jokes that people don't find funny.
Generally, the Wedding Master of Ceremonies has a welcome speech before the reception gets underway and the arrival of the newlyweds. (At this reception the newlyweds had already arrived and were seated at the head table.)
The welcome speech is different from the speech Maureen gave and I give you a format to follow in How To Be A FUN Wedding MC.
Maureen's speech took time to prepare. She had to find material which she thought would go over well with the guests and get some laughs because the newlyweds had asked her to keep the tempo fun and upbeat – something that every Master of Ceremonies at a reception should keep in mind.
However, there's much more to being a Wedding MC than giving a speech with jokes in it.
The events at a reception can range from the Grand Entrance to wedding games and entertainment, to traditional events like the bouquet toss and the garter toss, to the Final Farewell.
All of those events require preparation and need to be included in your wedding agenda and timeline.
If you don't know what to do or what to say or where to start then How To Be A FUN Wedding MC will help you prepare for the reception from start to finish.
P.S. Be sure to watch the video to the end: Maureen makes a toast at the very end that is a terrific finish to her speech.
(WARNING: Turn volume down on video below – it starts out VERY LOUDLY)
[s3vpp id=f2bfd5412896fc2f2a6a8959cb0d8b85]