If you're the Wedding MC who wants to know how to MC a wedding reception then it's crucial that you be aware of what's required in your role.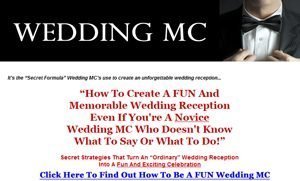 Some MCs are close friends of the bride and groom. Others – usually professional MCs – don't know the bride and groom at all until they're hired.
In many cases, though, the MC will be someone known to the bride and groom and who the bride and groom trust to conduct the reception in a professional manner – even if that person has never been a Master of Ceremonies before.
In fact, it's a role where you're chosen because people trust you to do a great job even if you have no experience.
And that can put a lot of stress on you especially if you don't know where to start or what to do.
The Master of Ceremonies has a specific and important role to play: to oversee and conduct the events at the reception.
Many Wedding MCs, especially those who are inexperienced, rely on the wedding planners to give them guidance on what to do at the wedding reception.
Sometimes you'll be working in close collaboration with the planners who could be the bride, the Mother of the Bride, or a professional planner.
Other times, you'll be expected to work on your own.
Relying on the planners is perfectly okay….to a point.
After all, the planners have a vision for the reception and it's not your role to change that vision. Instead, it's to enhance and highlight that vision.
In most cases, the wedding planners will know what events they want to take place but they might not know how to prepare a FUN celebration.
After all, choosing the tableware, centerpieces, theme, cake, and main meal are only part of what makes a reception a success.
More importantly, though, planners might not know how to mix fun with sentiment to make it both a celebration and a romantic time for the bride and groom.
In other words, there's a very good likelihood they won't know how to MC a wedding.
That's your job as Wedding MC and you're expected to know how to do that…even if you have no previous experience.
Your role requires organization and preparation – preferably well in advance of the bride and groom's big day.
The more time you have to prepare your notes and scripts, the more confident you'll be and the more likely the reception will flow smoothly.
If you're the Wedding MC, the following are key questions to ask yourself as you learn how to MC a wedding reception and prepare for the reception events:
1. Do you have your Wedding MC questions to ask the bride and groom prepared?
2. Have you outlined how you will introduce the bridal party or wedding party and the bride and groom during the Grand Entrance?
3. Do you have your introductions for the guests who will be giving wedding speeches and toasts?
4. Have you prepared for the wedding games and entertainment that will take place at the reception?
5. Have you finalized the preparations you will have to make as MC before the reception?
6. Have you prepared the Wedding Reception Agenda (Run sheet)?
7. Have you done or arranged for your walk through and checked things out at the reception venue?
8. Have you prepared your welcome (also known as the Wedding MC Speech) to the guests at the beginning of the wedding reception? (This is often mistakenly thought to be a speech but can have a completely different format than the typical wedding speech.)
9. Have you prepared contingency plans for when things don't go according to plan?
This isn't an exhaustive list of questions by any stretch of the imagination.
But it's a good start and it will give you an idea of the detail that every Wedding Master of Ceremonies should go through when planning a successful wedding reception.
As MC you'll have to know a lot of details in a short period of time. You'll be meeting people who are close to the bride and groom or their families but who are new to you.
You'll have to know people's names. You'll have to meet other key players including the caterer, the venue manager, the planners, and even those guests who will be giving speeches or toasts.
You'll have to introduce key wedding guests including the bride and groom's parents and grandparents, speakers and toasters, the wedding party, and, in some cases, dignitaries or honored guests. That will entail having background information so you can create an appropriate (and in many cases, a fun) introduction.
You'll have to be discreet, diplomatic, organized, convivial, helpful, and outgoing as you go about your duties.
As you can see, knowing how to MC a wedding reception isn't just about standing in front of the guests and making a few jokes or making announcements.
And it isn't about making an MC speech and then sitting down and enjoying the reception with the other guests.
Your role entails a huge amount of planning, preparation, and personal involvement before you even step into the reception room on the wedding day.
You'll not only ask questions but you'll also need to be prepared to give advice or recommendations.
If the bride and groom don't know what to include for games or entertainment, for example, they'll very likely look to you for ideas or suggestions.
Other times, you'll include special events or moments that the bride and groom don't know about so it's a surprise and has special meaning to them.
Nevertheless, whether your advice is sought or not, a step-by-step guide that takes you through the various events you'll most likely encounter at a wedding reception can prove invaluable…and save you hours of uncertainty, frustration, and unneeded stress.
In How To Be A FUN Wedding MC, the wedding master of ceremonies is shown WHAT to do, what to check for, how to prepare for wedding reception events, how to create a wedding reception agenda, what wedding games to recommend to the planners, what entertainment to suggest, where to start, and what to say.
But How To Be A FUN Wedding MC goes beyond telling you what to do.
It also shows the novice Wedding MC HOW to do his or her duties with the aid of preparation sheets and checklists to make sure important aspects aren't forgotten or overlooked. (After all, there's nothing more embarrassing than having the father of the bride come up to you and request something from you that you didn't know you were responsible for or were prepared for. You definitely don't want to be saying to yourself, "I wish I had known" or "I wish I had been told I was responsible for that.")
Be sure to check it out because How To Be A FUN Wedding MC shows the novice wedding MC how to MC a wedding reception from start to finish.
Click on the image below to find out more about
How To Be A FUN Wedding MC…